Guangdong Province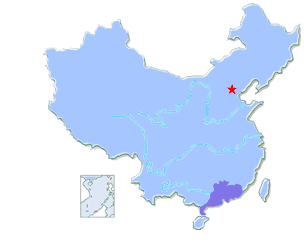 Population: 113,040,000 (2005)
GDP: CNY3.07 trillion (2007)
Nationalities: Han, Yao, Zhuang, Hui, Manchu and She.
Area: 180,000 square kilometers.
Coastline: 4,300 kilometers long.
Climatic features: subtropical-tropical, humid monsoon climate; rainy season from April to September; typhoons from May to November.
Average temperature: 8oC to17oC in January, 27oC to 29oC in July.
Annual average rainfall: Over 1,500 mm; high precipitation on the southern side of mountains; 40 percent of the rain falls during the summer.
Physical features: Situated on the Tropic of Cancer; hills in the north and lowlands in the south; hills scattered along the coastline; faces the South China Sea; includes the Pearl (Zhujiang) River Delta; the Leizhou Peninsula extends to the southwest.
Mountains: from west to east arranged in an arc, are the Yunwu, Nanling, Jiulian, and Lianhua Mountains.
Rivers: Pearl River, which is the confluence of the Xijiang, Beijiang and Dongjiang Rivers from the west, north, and east, respectively.
Products: Rice, potatoes, corn, sorghum, millet, wheat, sugar cane, peanuts, soybeans, sesame, tea; silk cocoons, ambary hemp, jute; sun-cured tobacco; bananas, oranges, lychees, pineapples, tongans, and other tropical and subtropical fruits; rubber, oil palm, sisal hemp; coffee, cocoa, lemongrass, pepper; oyster, abalone, pearl, sea horse, and other sea products; timber; wolfram, tin, antimony, bismuth, molybdenum, copper, lead, zinc, oil shale, salt, sulphur.
Administrative divisions: 15 cities, 73 counties, and 3 autonomous counties
Capital: Guangzhou.
Neighboring areas: Hunan, Jiangxi, Fujian, and Hainan Provinces; Guangxi Zhuang Autonomous Region, Hong Kong and Macao.
Major cities: Guangzhou, Shantou, Foshan, Zhanjiang, Shenzhen, Zhuhai, Shaoguan
Tourist attraction: Seven Star Crags in Zhaoqing.
Comments: Shenzhen, Zhuhai and Shantou are three of China's four special economic zones established in early 1980's
Pearl River Delta: The Pearl River Delta covers an area of 11,000 square kilometers and includes the cities of Xinhui, Gaoming, Sanshui, Zencheng, Dongguan, and Shenzhen. It is a densely populated, economically prosperous, and fertile region. Originally a bay with many islands, the delta was formed by sand brought down by the tributaries of the Pearl River. Gradually an alluvial plain accumulated in the bay, and the original islands became hills on the delta. Today the land continues to grow into the sea, pushing back the water 10-15 meters every year. The plain is crossed in the west by the Xijiang and Beijiang Rivers and in the east by the Dongjiang and the Pearl Rivers.
The saying "four seasons of flowers and three winters without snow" accurately describes this region. The temperature seldom drops below 0ºC, even when the region is struck by a cold wave from the north. However, flooding is frequent, especially from May to July.
In addition to being a fishing region, the delta is an important production base for sugar cane and a major silkworm base. Other delta products include rice, wheat, potatoes, peanuts, jute, lychees, longans, and ornamental plants and flowers.
Hong Kong: Situated to the east of the mouth of the Pearl River, Hong Kong is a key outpost; it guards international navigation lines and is the gate to South China. It is composed of Kowloon Peninsula, its adjacent islands including Hong Kong and Dahao, and part of the Dapeng and Shenzhen Bays. Hong Kong has an area of 1,062 square kilometers with a population of 5.6 million (1988). Its urban core covers the northern part of Hong Kong Island and the southern part of Kowloon Peninsula. A deepwater port lies between the two areas.
In 1898, Britain obtained from China's Qing government a 99-year lease on Hong Kong. On December 19, 1984, the Chinese and British Governments signed a joint declaration concerning Hong Kong stating that Britain would restore Hong Kong to China on July 1, 1997.
Macao: Macao is located on the tip of Macao Peninsula in the southern part of the Pearl River Delta and includes Dangzai and Luhuan Islands in its domain. The territory's 16 square kilometers are inhabited by 426,400 (by the end of 1986) people, 96 percent of which are Chinese. It has been a Portuguese colony since the 16th century when some Portuguese businessmen made a landing on the pretext of sunning their water-soaked goods. The Chinese and Portuguese Governments signed a joint declaration on April 13, 1987 concerning Macao, stating that Portugal would restore Macao to China on December 20, 1999.
Topography: The province is high in the north and low in the south. Mountains make up 31.7% of the total area, hilly areas 28.5%, terraced farmland 16.1% and plains 23.7%. It has 3.12 million hectares of farmland, 10.25 million hectares devoted to forestry and 570,000 hectares of underdeveloped grasslands.
Climate: Most areas enjoy a subtropical monsoon climate with adequate rainfall, long summers and warm winters. Annual precipitation in 2005 averaged 1,770 mm. Artificial rainfalls amounted to 2.2 billion cubic meters. The sunshine time during the year stood at 1,606.2 hours, a reduction of 9.8% compared with a normal year. Its average annual temperature is 22ˇăC.
Natural resources: Guangdong boasts rich mineral resources. By the end of 2005, a total of 129 minerals have been discovered, and the reserves of 92 minerals have been proven.
Forests cover 57.5% of the province with standing timber reserves of 300 million cubic meters. Species include pine, Chinese catalpa, fir and eucalyptus.
By the end of 2005, 237 forest, wetland and wildlife reserves had been established, covering a total area of 1.07 million hectares.
The province has extensive access to the sea together with a network of interconnected waterways with many reservoirs and fish ponds. It is rich in aquatic products. Its marine breeding areas cover 780,000 hectares and it has a further 430,000 hectares of freshwater breeding areas. The main crops are rice, vegetables and fruit. Zhanjiang is the main center for sisal hemp while fruit production is predominately based around Maoming. Among the 200 varieties of fruit grown in Guangdong are pineapples, bananas and litchi, together with longans and oranges.
The province faces a shortage of water resources. At the end of 2005, the water storage in large reservoirs totaled 13.98 billion cubic meters. The annual water consumption stood at 47 billion cubic meters.
The year 2005 saw a reduction of 94,139 hectares of cultivated land as a result of construction, disasters and readjustment of agricultural structures.
Tourism resources: Guangdong is now seeing more and more of its cities designated as "Excellent Tourist Cities" for the list now includes Guangzhou, Shenzhen, Zhuhai, Zhaoqing, Zhongshan, Foshan, Jiangmen, Shantou, Huizhou and Hainan. In particular Zhongshan and Hainan rank first and second among the cities at prefecture and county levels to have been awarded this honor.
Development of the tourism triangle based on Guangdong, Hong Kong and Macao has now taken off. The State Council has approved the introduction of a 144-hour visa endorsement service in 10 cities in the Zhujiang River Delta and Shantou City.
Eleven of the province's scenic spots and scenic areas are now graded 4-A designating them as top quality tourist areas:
1. Baiyun Hill in Guangzhou
2. Xiangjiang Wildlife Park in Guangzhou
3. Overseas Chinese Town in Shenzhen
4. Guanlan Golf Course in Shenzhen
5. Yuanming New Park in Zhuhai
6. Dr. Sun Yat-sen's birthplace in Zhongshan
7. Star Lake in Zhaoqing
8. Mount Sijiao in Foshan
9. Mount Danxia in Shaoguan
10. Qingxin Hot Springs in Qingyuan
11. Hailing Island's Dajiao Bay in Yangjiang