Heilongjiang Province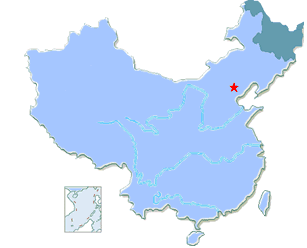 Population: 38 million
Urban population: 20.6 million
Nationalities: Han (95%), Manchu (3%), Korean (1%), Mongolian (0.4%), and Hui (0.3%),
GDP (2007): CNY707.7 billion.
Climatic features: spans the cold-temperate/semi-humid and temperate/humid zones; short summers and long winters; no summer in the northwest; subject to spring droughts, summer flooding, and autumn frost.
Average temperature:
-32oC to -17oC in January, 16oC to 23oC in July; coldest in the northwest Annual average rainfall: 250 - 700 mm; highest precipitation occurs on the southern side of the Lesser Hinggan Range and the Zhangguangcai Mountains; 60 percent of the rain falls from June to August.
Physical features:
Mountainous in the north and south; plains in the east and west; intermittent volcanic eruptions in some sections.
Mountains:
Emur, Yilehuli, and Lesser Hinggan Mountains in the north; in the south, part of the Changbai Mountains.
Plains:
The Sanjiang Plain in the east consists of alluvial deposits from the Heilong, Songhua, and Wusuli Rivers: the Songnen Plain, named after the Nenjiang and Songhua Rivers, is connected to the Sanjiang Plain through the Songhua River Valley; a small plain lies north of Xingkai Lake in the east.
Rivers:
Heilong River along the northern border; Nenjiang and Songhua Rivers in the middle; Wusuli River along the eastern border.
Products:
Corn, sorghum, millet, wheat, rice, potatoes, soybeans, sugar beet, sesame, sunflower seeds; flax, tussah; timber; fur animals including squirrel, alpine weasel, sable and otter; ginseng, antlers, tigerbone, musk and other medicinal materials; edible fungus, mushrooms, pine nuts; chum salmon, sturgeon, huso sturgeon.
Administrative divisions: 19 cities, 59 counties, and 1 autonomous county
Capital: Harbin.
Neighboring areas: Jilin Province and Inner Mongolia Autonomous Region.
Neighboring country: Russia.
Major cities: Harbin, Qiqihar, Mudanjiang, Jiamusi, Jixi, Hegang, Shuangyashan, Daqing, Heihe.
Tourist attractions: ice festival and Sun Island, Harbin; Jingpo Lake near Mudanjiang.
Elevation extremes:
The province's topography is higher in the northwest, north and the southeast, and lower in the northeast and southwest. In its northwestern part, there is the Greater Hinggan Mountains, and in the north, the Lesser Hinggan Mountains. In the southeastern part, there are the ridges of Zhangguangcai, Laoye and Taiping, in addition to the Wanda Mountain. The Nenjiang River and Songhua rivers run across the province from south to north, forming the Sanjiang (three-river) Plain in the northeast and the Songnen Plain in the southwest. In its southeast, there is the Xingkai Lake. Hilly land and mountainous areas account for 70% of the province's land, with heights ranging from 300 to 1,780 meters above sea level. Plains, lying 50-250 meters above sea level, make up about 30% of the province's total area.
Climate:
It has a continental monsoon climate, the kind between the temperate and frigid zones, with annual temperatures of ¨C4¡ãC to 4¡ãC. The temperature difference between its north and south parts is 8¡ãC. Its warm summer with plentiful rainfall and long-time sunlight is good for crops, its annual sun radiation power reaching 100-120 Cal per square centimeter. Most of the areas are windy in spring, and its southwestern part, in particular, is rich in wind energy source.
Natural resources:
The province has 44.37 million hectares of soiled land with rich organics, of which 40% is suitable for farming. Heilongjiang is one of the world's three major black soil zones, 67.6% of its total farmland of 1,180 hectares is cultivated on either black soiled land, marshland or black calcium soil. Furthermore, the province has 4.33 million hectares of pastures and 4.793 million hectares of land reserved for farming. The province ranks No. 1 in terms of farmland and forest area; No. 7 in area of pastures; No. 4 in land to be developed; and No. 2 in land reserved for farming. Both of its total farmland area and the reserved land resources account for one-tenth or more of the nation's total. The average per head farmland and the average per head area of farmland operated by individual farmers are three times of the nation's average.
The province has the largest forestry industry in the country, occupying a very important position in China's forest ecology. The total area involved in forestry operation is 31.26 million hectares, or 68.9% of the province's total land area. Its forests cover 19.19 million hectares of land, with a total reserve of 1.5 billion cubic meters of live timbers. With 41.9% of its land covered with forest, Heilongjiang ranks the first among all China's provinces in afforested area, reserve of forest resources and timber output. It is the most important state-owned forest area and the largest timber center in China. In its forests are more than 100 species of trees, including 30 of high use-value. Natural forests, which constitute the principal part of its forest resources, are mainly distributed in the Greater and Lesser Hinggan Mountains and the Changbai Mountains.
A total of 131 minerals have been discovered in the province. And reserves of 74 of them have been surveyed. The deposits of 10 minerals lead the country, including petroleum, graphite, sillimanite, cast basalt, asbestos-use basalt, cement-use marble, colorant loess, lava ash, glass-use marble, and orthoclase. Its coal deposit is the largest among the three Northeast China provinces. Thirty-nine minerals have been mined, and the annual output value of various minerals ranks second in the country.
The province is an important energy base of China. In 1999, it produced 62.30 million tons of raw coal, making it a key coal supplier of the country. Its output of electricity and gas also occupies an important position in the country. Before the founding of New China in 1949, the province had only a hydropower station at Jingpo Lake Over the past decades, both hydropower and thermal-power stations have been developed over the past decades, and up to 1999, the province had altogether 200 power stations, with a total generating capacity of nearly 10 million mega w.; the generating volume of its hydropower was 1.4 billion mega w. hour. The Hayi Gas Project, the largest in Asia of its kind, produces 1.89 million cubic meters of gas a day.
Heilongjiang is one of China's water-rich provinces. Its numerous rivers form five water systems, including that of the Heilong River, Wusuli River, Songhua River, Nenjiang River and Suifeng River. Presently, there are about 6,000 lakes and reservoirs, covering a surface area of more than 800,000 hectares. About 70% of its rainfall concentrates in the warm season, providing an ideal environment for all the plants and crops to grow.
The province also has a rich resource of wildlife. There are 86 species of wild beasts and animals in 20 families of six orders, accounting for 21.6% of the nation's total species. Of them, five are under first-class state protection, including sable, glutton, leopard, tiger and sika deer. There are 343 bird species in 57 families of 19 orders, making up 29% of the nation's total, of which 12 species are under first-class state protection, include white cranes, Chinese goosanders, stocks, and golden eagles. There are 2,100 species of wild plants, 17 of which are gymnosperm in 8 genera of four families; 1,747 species of angiosperm of 636 genera in 107 families; and 1,764 species of seed plants in 644 genera of 111 families. There are 2.5 million tons of reserved wild plants of economic value, including more than 250,000 tons of edible plants, over 1 million tons of wild grasses for paper-making and 1.25 million tons of medicinal herbs.
The province's major agricultural produces include soy beans, wheat, maize, potato, rice, beet, flax, and tobacco.
At the end of 2005, the province has 170 nature reserves covering a total area of 4.689 million hectares.
Tourism resources:
Heilongjiang has abundant characteristic tourism resources. Its spots for ice and snow activities are the best in China. Snow-skiing period in the province lasts 120-140 days in a year. In mountainous area, snow on the ground can be 100-300 cm deep and it's of good quality. Among its smooth mountain slopes, 100 has been chosen as spots good for building large-scale skiing grounds. Its beautiful landscape, forests and grasslands, wetlands and rivers and lakes provide rich resources for developing eco-tourism.
Its unique history has also left it a rich cultural legacy and colorful customs. The Bohai State during the Tang Dynasty, the ruins of the Jin-dynasty capital in Huining and the ruins of Longquan Mansion are among those of historical interest.
The crossing-border tours to Russia launched on the border rivers of Heilong and Wusuli attract tourists from all over the country. Such cities as Harbin, Daqing and Yichun attract travelers with their distinctive style of northern frontier cities. In addition, there are the Zoo of Northeast China Tigers, the Reserve of Red-Crowned Cranes, the site for admiring the northern lights, the forest at a crate, and a number of large-scale enterprises of mining, farming and oilfields open to tourists. The province has set up 84 nature reserves (including seven at state-level and 17 at provincial level), which cover a total area of 2.30 million hectares, or 5.05% of the province's total land area.