Hunan Province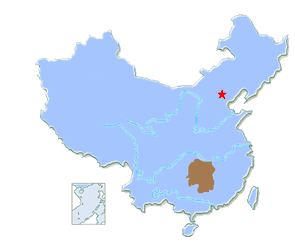 Population: 67 million
Urban population: 23.8 million
Nationalities: Han, Tujia, Miao, Dong, Yao, Hui, Uygur and Zhuang
GDP (2007): CNY914.5 billion.
Climatic features: subtropical, humid, monsoon climate; short winters with low temperatures in the south and the northwestern mountains; frequent rainstorms between spring and summer; droughts from summer to autumn.
Average temperature: 4oC to 8oC in January, 26oC to 30oC in July.
Annual average rainfall: 1,250 - 1,750 mm; high precipitation on the seaward side of mountains; 40 percent of the rain falls from April to June.
Physical features:
Mountains and hills cover 80 percent of the province; a small plain surrounds Dongting Lake in the central north.
Mountains:
Wuling Mountains in the northwest; Xuefeng Mountains in the central west; Luoxiao Mountains in the east; Nanting Mountains in the south.
Rivers:
Xiangjiang, Yuanjiang, Zishui, and Lishui Rivers; the Yangtze River touches the border near Dongting Lake.
Lakes: Dongting and Datong Lakes.
Products:
Rice, wheat, potatoes, corn, sorghum, millet, rape, soybeans, peanuts, sugar cane, sesame, tea; cotton, ramie, silk cocoons; flue-cured tobacco, tung oil, tea oil; lotus seeds, yangtao(starfruit), oranges, lily; timber; pork, goose; antimony, lead, zinc and other non-ferrous and rare metals.
Administrative divisions: 1 autonomous prefecture, 24 cities, 74 counties, and 6 autonomous counties.
Capital: Changsha
Neighboring areas:
Jiangxi, Guangdong, Guizhou, Sichuan, and Hunan Provinces; Guangxi Zhuang Autonomous Region.
Major cities: Changsha, Zhuzhou, Hengyang, Xiangtan, Shaoyang, Lengshuijiang.
Tourist attractions:
Mount Hengshan, 1,290 meters high, is one of the Five Mountains in eastern China; Dongting Lake, once the biggest fresh water lake in China, has an area of 2,820 square kilometers.
Elevation extremes:
The land in Hunan generally slopes from the east, south and west towards the north like the shape of a horse's hoof. Hunan is surrounded with mountains on three sides: Mufu and Luoxiao mountains in the east, Nanling Mountain in the south, and Wuling and Xuefeng mountain in the west. The northern part of the province is the Dongting Lake Plain, and central Hunan has wide areas of low hills, basins and valleys.
Among the total area of Hunan, mountainous regions account for 51.2%, while basins, plains and hilly areas account for 13.9%, 13.1% and 15.4% respectively. Areas below 50 meters altitude form 9.9% of the total, while areas above 1,000 meters account for 4.3%. The majority of Hunan Province lies at altitudes between 100 meters and 800 meters.
Climate:
Hunan has a humid continental and subtropical monsoon climate. It has average annual sunshine of 1,300-1,800 hours, annual average temperature is 16ˇăC-18ˇăC, a frost-free period of 260-310 days, and a mean annual precipitation of 1,200-1,700 mm.
Its climate has three characteristics: first, it has abundant sunshine, heat and water resources, and they reach their peak synchronously. During the period from April to October, the total radiation amount is 70-76% of the whole year, and rainfall accounts for 68-84% of the total. Second, there are distinct seasonal climate changes, with a cold winter and hot summer. The temperature always changes in spring, but always declines abruptly in the autumn. There is much rainfall in spring and summer, while drought always appears in autumn and winter. Third, areas with an abruptly changeable climate are surrounded by mountains in three directions, especially in the mountainous regions in west and south Hunan.
Land: The year saw a reduction of 492 hectares of cultivated land because of various reasons. The total amount of farmland stood at 3.36 million hectares.
Waters:
The province has a complete water system. Dongting Lake in northern Hunan, the second largest fresh water lake in China, has a water area of 2,691 square km. It takes the waters of the Xiangjiang River, Zishui River, Yuanjiang River and Lishui River from the southwest, and then flows into the Yangtze River at Chenglingji.
Xiangjiang River, Zishui River, Yuanjiang River and Lishui River have a total waterway length of 2,200 km in Hunan, with nearly 5,000 tributaries.
The per capita amount of water resources was 2,105 cubic meters. The total water storage in large reservoirs was 11.1 billion cubic meters at the end of 2005.
Minerals:
A land and geological survey conducted within the province in 2005 found 11 new mines, with six minerals having proven reserves. The lead and zinc deposits amounted to 64,100 tons and coal deposits amounted to 6.54 million tons.
Biological resources:
Hunan has a variety of animals and wide range of distribution. Incomplete statistics show that the province has 70 kinds of mammals, 310 kinds of birds, over 70 kinds of creeping animals and over 160 kinds of fish. It has 44 rare and state-protected animals. Eighteen kinds of rare animals are under Class A protection, like the white-flag dolphin, South China tiger. Nineteen kinds of animals, like the macaque and short-tail monkey, are under Class B protection. The third category of protected animals includes seven species, such as bear.
At the end of 2005, the province had set up 92 nature reserves to put a total area of 1.1 million hectares under protection.
Tourism resources: Hunan has lots of elegant landscapes and
numerous historic sites. It now has over 20,000 cultural remains, including 22 national-level key protection units and 211 provincial-level key protection units. The province has four state-class natural reserves, 22 provincial-class natural reserves and 21 national forest parks. The total area of nature reserves is 7,260 square km, 3.43% of the province's total.
Hunan has developed 43 scenic areas. There are three national-level key scenic areas covering Mount Hengshan, WulinYuan, Yueyang Tower, Dongting Lake and Shaoshan, and 27 provincial¨Cclass scenic areas.
WulingYuan tourist area (including Zhangjiajie, Suoxi Valley and Tianzi Mountain and Mengdong River), with its unique physiognomy, limestone caves, brooks, hot springs, ancient trees and rare animals, has been placed by United Nations Educational, Scientific and Cultural Organization (UNESCO) on the World Natural Heritage List. Mount Hengshan is the famous sacred mountain of Buddhism and a summer resort. Yueyang Tower is also well known at home and abroad for its long history, folklore and grand architecture. Changsha, the provincial capital, is a historic and cultural city. Tourist sites there include Han Dynasty Tombs at Mawangdui, Yuelu Hill, Loving Youth Pavilion (Aiwanting), Orange Isle (Juzizhou), and Yuelu Academy of Classical Learning.