Liaoning Province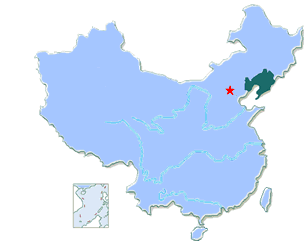 Population: 42.2 million
Urban population: 21.7 million
Nationalities: Han (84%), Manchu (13%), Mongolian (2%), Hui (0.6%), Korean (0.6%) and Xibe (0.3%).
GDP (2007): CNY1.1 trillion
Area: 145,900 km2
Climatic features:
Temperate, humid, monsoonal climate in the coastal region; subtropical, semi-humid, monsoonal climate in the north; hot, rainy summers; long, cold winters; short, windy springs.
Average temperature: -17oC to -5oC in January, 21oC to 25oC in July.
Annual average rainfall: 400 - 1,200 mm; high precipitation in the eastern mountain area; 60 percent of the rain falls from June to August.
Physical features: High in the west and east; low plains in the central and the southern coastal areas; the Liaodong Peninsula in the south stretches out to enclose the Bohai Gulf.
Mountains: Qianshan Mountains in the east, which are an extension of the Changbai Mountains; Nulu'erhu Mountains in the west.
Rivers: Liaohe River, the principal waterway of the province; Yalu River, which forms the boundary between China and Korea.
Products:
Corn, millet, sorghum, rice, wheat, potatoes, soybeans, peanuts, sesame; cotton, silk cocoons, ambary hemp, flax, tussah; apples, pears, grapes; ginseng, antlers; sea products including cutlass fish, yellow croaker, shrimp, and shellfish; iron, coal, oil shale, manganese, magnesium, talcum, petroleum, salt.
Administrative divisions: 19 cities, 34 counties, and 5 autonomous counties.
Capital: Shenyang
Neighboring areas: Jilin and Hebei Provinces; Inner Mongolia Autonomous Region
Neighboring country: Korea
Major cities: Shenyang, Dalian, Anshan, Fushun, Benxi, Dandong, Jinzhou, Yingkou.
Tourist attractions: 350-year-old Imperial Palace in Shenyang; Dalian, a summer resort.
Topography:
The coastline of Liaoning Province is 2,178 km long - nearly 12% of China's total. The hilly regions in east Liaoning are the main area for forest. Adjoining the long, narrow costal plains (usually called the Liaoxi Corridor) is the main road for northeast China, linking with north China. Liaohe Plain in Central Liaoning, as a part of the Northeastern China Plain, has sedimentary deposits from the Liaohe River and other tributaries. The plain has abundant water and fertile soil, and is the main farming area and commodity grain base in the province.

Climate:
Liaoning has a continental monsoon climate with distinct seasonal variations. It has an annual rainfall of 714.9 mm, annual average temperature of 4¡æ-10¡æ with a frost-free period of 140-200 days.

Water resources:
There are 392 rivers of a total length of 160,000 km with a drainage area of 145,000 sq km in the province. Liaohe River, one of the seven longest rivers in China, is 512 km long and has a drainage area of 69,000 sq km in the province. The average runoff of rivers in Liaoning has reached 32.5 billion cubic meters, or a 223 mm runoff depth. The province has a total water resource of 36.3 billion cubic meters. Liaoning has plentiful fishing resources with its marine life area ranking second in China.
Minerals:
Nearly 115 minerals have been found in Liaoning, and reserves of 64 minerals have been located. Its reserves of minerals such as iron, boron, magnesite, diamonds and talcum are some of the largest deposits in China.
Liaohe Oil Field is the third largest oil and natural gas field in China. Its reserves of oil and natural gas account for 15% and 10% of the country's total.
Biological resources:
Liaoning has a total forestry area of 4.185 million ha, with 28.7% forest cover. It also has a lot of fruit trees. It has the third largest total area of fruit in the defoliated zone and the second largest production in the area.

Tourism resources:
Liaoning has over 11,300 cultural remains, including 19 national-level key protection units and 159 provincial-level key protection units. There are 7 state-class natural reserves and 7 provincial-class natural reserves. Some of the folk festivals attract the attention of both domestic and foreign visitors such as the Dalian Costume Festival.