Ningxia Hui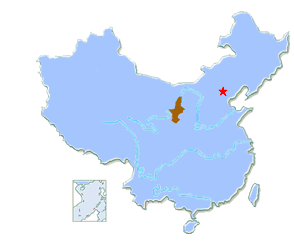 Population: 5.9 million
Urban population: 2.1 million
Nationalities: Hui (34%), Han (62%) and Manchu (0.4%)
Area: 66,000 km2
Altitude: 2,000 meters in the mountains; 1,000 - 1,200 meters on the plains.
GDP (2007): CNY83.4 billion
Climatic features: temperate, continental climate; long, cold winters; short, hot summers; low precipitation and strong winds.
Average temperature: -10oC to -7oC in January, 17oC to 24oC in July.
Annual average rainfall: 190 - 700 mm; precipitation increases from north to south and varies greatly from year to year.
Physical features: Loess Plateau in the south and east; Ningxia or Yinchuan Plain, in the north; Yellow River traverses the Ningxia Plain; Helan Mountains along the western border; Liupan Mountains in the southwest.
Products: wheat, millet, potatoes, corn, sorghum, broomcorn millet, rape, soybeans; flax,
hemp; plaster stone, salt, iron.
Specialties: argali sheep hide and wool, facai, wolfberry fruit, licorice root, and Helan stone (collectively known as the region's "five treasures").
Administrative divisions: 4 cities and 16 counties.
Capital: Yinchuan
Neighboring areas: Shaanxi and Gansu Provinces; Inner Mongolia Autonomous Region.
Major cities: Yinchuan, Shizuishan, Wuzhong, Guyuan, Zhongwei, Qingtongxia.
Elevation extremes: The topography of Ningxia slants toward the north with an elevation from 1,100 to 2,000 meters. The highest point is 3,556 meters above sea level.

Natural resources:
Ningxia boasts 0.71 million ha of wasteland suitable for farming, one of China's eight provinces and autonomous regions each with more than 0.63 million hectares of wasteland suitable for agriculture. There are 3 million ha of exploitable meadows, making Ningxia one of the ten major pastures in China. The Weining Plain that features 0.37 million ha of land irrigated with water diverted from the Yellow River is one of the four principal areas with gravity irrigation in northwest China. For years, the annual runoff of the Yellow River through Ningxia has remained at 32.5 billion cubic meters, and the water resources allocated to Ningxia by the state for irrigation are 4 billion cubic meters.
The rich land resources, convenient conditions to divert water from the Yellow River for irrigation, and abundant sunshine have laid a solid foundation for Ningxia to bring into play its advantages in the development of agriculture. Crops, melons, and other fruit are doing well in the irrigated area. Watermelon, apple, and grape from the irrigated area have a 15-20% higher sugar content than those produced in central China. The per-hectare yield of single-cropping paddy reaches 10,500 kg, placing Ningxia in front among the provinces and autonomous regions in western China and turning it into one of the nation's 12 grain production bases. Effort is being taken to build Ningxia into a national agricultural demonstration area with high yield, high efficiency, and fine quality.
Livestock breading makes up 29% of the local agriculture. Of the 82,000-ha water surfaces, 10,000 ha can be used for aquaculture. Ningxia produces various species of carp, river shrimp, and river crabs. There is a great potential for the development of aquaculture. In recent years, Ningxia has seen a rapid development of the aquatic production. It leads other provinces and autonomous regions in the northwest in the per-capita output of aquatic products.
Ningxia is rich in mineral resources, with verified deposits of 50 kinds of minerals including coal, gypsum, oil, natural gas, pottery clay, quartz sandstone, and barite. The potential value of these natural resources per capita is 163.5% of the nation's average, putting Ningxia fifth in the country. There are abundant reserves of various kinds of coal. Ningxia has formed a considerable scale of coal production. It leads the country in the deposits of gypsum, with verified deposits of more than 4.5 billion tons. Top-grade gypsum makes up half of the total deposits. The Huojiakouzi deposit in Tongxin County features a reserve of 20 tons of gypsum in 20 layers with a total thickness of 100 meters. It is a rarely-seen large gypsum in China. The reserve of oil and natural gas is ideal for a large-scale development of oil, natural gas, and chemical industries. There is a considerable deposit of quartz sandstone, of which 17 million tons have been ascertained. In addition, there are phosphorus, firestone, copper, iron, other minerals as well as Helan stone (a special clay stone).