Xinjiang Uygur Autonomous Region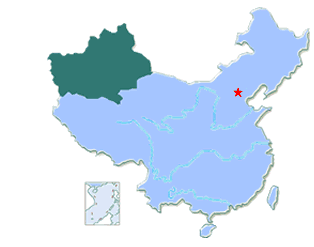 Population: 19,630,000
GDP (PPP): CNY349.4 billion (2007)
Nationalities: Uygur (45%), Han (41%), Kazak (7%), Hui (5), Mongolian (0.8%), Xibe (0.2%), Krygyz (0.9%), Tajik (0.2%), and Dongxiang (0.3%).
Area: 1,660,001 km2
Altitude: 8,61 1 meters at the Qogir Peak; 155 meters below sea level at the bottom of the Turpan Depression, the lowest point on the China continent.
Climatic features: temperate, continental climate; warmer in the south; extreme temperature changes; little precipitation; frequent gales in spring and autumn.
Average temperature: in January, -20oC to -15oC in the north and -10oC to -5oC in the south; in July, 22oC to 26oC.
Annual average rainfall: 150 mm; higher precipitation in the north; only 10 mm around Qarqan and Qarkilik.
Physical features: three major mountain ranges separate the lowlands into various-sized basins and valleylands; conspicuous differences in land elevation.
Mountains: Tianshan Range in the central area; Allay Range in the north; Karakorum, Kunlun, and Altun Mountains in the south.
Deserts: Taklimakan Desert in the Tarim Basin; Gurbantunggut Desert in the Junggar Basin; Gumtay Desert in the east.
Basins: Junggar Basin between the Tianshan and Altay Ranges; Tarim Basin between the Tianshan and Kunlun Ranges, over 500,000 square kilometers in area; Turpan Depression
between the Bogda and Qoltag Mountains; east of the Turpan is the Hami Basin.
Rivers: the 2,137-kilometer Tarim River, China's longest inland river, Ili and Ertix Rivers.
Lakes: Lop Nur, a famous salt lake; Bosten Lake, the largest fresh water lake of the region; Aydingkol Lake in the Turpan Depression, with the lowest altitude in China.
Products: wheat, rice, corn, sorghum, millet, potitces, rape, sesame, sugar beet, peanuts; peaches, grapes; cotton, silk cocoons; iron, coal. petroleum, gold, copper, salt, jade, sulphur.
Specialties: Turpan grapes, Hami melons.
Administrative divisions: 5 autonomous pretectures; 16 cities, 65 counties and 6 autonomous counties.
Capital: Urumqi
Neighboring areas: Gansu and Qinghai Provinces, Tibet Autonomous Region.
Neighboring countries: Mongolia, the former Soviet Union, Afghanistan, Pakstan and India.
Major cities: Urumqi, Kashi, Yining, Hami, Karamay, Aksu, Shihezi, Holan, Korla.
Tourist attraction: Tianchi Lake near Urumqi, in the Tianshan Range.
Land: About 68 million ha or 41.2% of Xinjiang's total area are considered suitable for the development of agricultural, forestry and animal husbandry. Of this there are some 48 million ha of natural grassland for grazing, 9 million ha available for reclamation, over 4 million ha under cultivation and 666,700 ha of man-made pastures. Xinjiang is one of the country's five major grazing areas. In addition there are some 4.8 million ha of land available for forestry including 1.5 million ha in production with reserves of some 250 million cubic meters of timber.
Biological resources: Xinjiang is home to 699 species of wild fauna, including 85 species of fish, 7 species of amphibians, 45 species of reptiles and 137 species of mammals. More than 4,000 species of wild flora have been identified, of which over 1,000 varieties such as bluish dogbane and Taraxacum kok-saghyz (T. kok-saghyz Rodin), are of significant economic value.
Minerals:
Among the 122 minerals that have been discovered, several are the largest reserves nationwide. These include beryllium, muscovite, natron saltpeter, pottery clay and serpentine.
Known reserves of iron ore are put at 730 million tons, while those for salt are 318 million tons, mirabilite 170 million tons and natron saltpeter over 2 million tons.
With its deposits of more than 70 non-metalic minerals, Xinjiang is well known both at home and abroad for its muscovite, gemstones, asbestos and Khotan (Hetian) jade.
Water and energy:
Xinjiang has an annual runoff of some 88 billion cubic meters of surface water together with 25 billion cubic meters of exploitable groundwater. Glaciers covering 24,000 sq km lock away over 2,580 billion cubic meters of water.
Generous annual sunshine is in the range 2,600 to 3,400 hours.
Estimates put Xinjiang's coal reserves at about 38% of the national total.
Petroleum and natural gas reserves estimated at 30 billion tons, account for more than 25% of the national total.