Zhejiang Province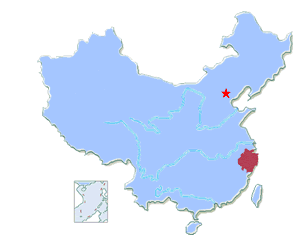 Population: 47,200,000
GDP (PPP): CNY1.86 trillion (2007)
Nationalities: Han (99.2%), and She (0.8%)
Area: 101,800 km2
Coastline: 2,200 kilometers long
Climatic features: subtropical, monsoonal climate; clear-cut seasons; plum rains from early June to early July; droughts in July and August; typhoons from late August to late September.
Average temperature: 2oC to 8oC in January, 27oC to 30oC in July; high temperatures in the central basin.
Annual average rainfall: 850 - 1,700 mm; low precipitation in the north.
Physical features: lowlands in the northeast and mountains in the southwest; 70 percent mountains and hills; faces the East China Sea; the Hangzhou Gulf at the mouth of the Qiantang River is closed in by the Zhoushan Islands in the east.
Rivers: Qiantang River in the north; Qujiang River in the south.
Products: rice, wheat, corn, potatoes, sugar cane, rape, sesame, peanuts, soybeans, tea; ramie, jute, silk cocoons, cotton, bamboo; tea-oil tree, tung tree, Chinese tallow tree; oranges, red bayberries, walnuts, Chinese torreya, loquats, peaches, persimmons, gingko, mushrooms, dried bamboo shoots; sea products including yellow croaker, hairtail, cuttlefish, shellfish, laver, kelp; alum, flourite, salt.
Specialties: Fuchunjiang shad, Jinhua ham, Longjing tea, Huyang sheep.
Administrative divisions: 18 cities, 57 counties, and 1 autonomous county.
Capital: Hangzhou
Neighboring areas: Fujian, Jiangxi, Anhui, and Jiangsu Provinces: Shanghai Municipality.
Major cities: Hangzhou, Ningbo, Wenzhou, Shaoxing, Jinhua, Jiaxing, Huzhou
Tourist attractions: West Lake in Hangzhou; Mount Putuo of the Zhoushan Islands, famous for its Buddhist temples; the tide waves of the Qiantang River.
Elevation extremes:
Zhejiang's territory slopes down from the southwest to the northeast. Its southwest is mountainous, with the average height of 800 meters above sea level. Most of the province's mountains with a height of over 1,500 meters are found in this area. Huangmaojian in Longquan County, 1,929 meters above sea level, is the highest peak of the province. The middle part of Zhejiang is a hilly area, scattered with many large and small basins. The northeastern part is a low and flat alluvial plain covered with a thick layer of fertile soil and crisscrossed with waterways. The mountain ranges stretch towards the East China Sea, forming many peninsulas and islands.
Zhejiang covers a total land area of 101,800 sq km, of which 70.4% is mountainous region; 23.2% is plain; and rest 6.4% is covered by rivers and lakes.

Climate: Zhejiang has a sub-tropical monsoon climate, with the clear division of four seasons and abundant sunshine. The average annual temperature is 15ˇăC - 18ˇăC and the average annual precipitation is 1,200-1,800 mm. Its rainy season is from May to June; its coldest and hottest days are seen in January and July respectively.

Natural resources:
A rich reserve of more than 100 minerals is found in Zhejiang, including 12 non-metallic ones ranking among the top three in China in terms of the amount of reserve. Five new mineral reserves were proven in 2004. Its reserves of stone coal, alunite, pyrophyllite, limestone for cement-making and limestone for construction rank the first in the country; fluorite occupies the second place in China and diatomite, the third. The reserves of silica, pearlite, granite, zeolite, silver, zinc, vanadium and cadmium all rank among the country's top tens.
Zhejiang has a total coastline (including island lines) of 6,486 km, with a total domestic sea area of 30,900 sq km. It has the China's largest in-shore fishery, with 400 sq km of shallow sea and 2,886 square meters of low beach for aquiculture. In addition, the continental shelf of the East China Sea is rich in petroleum and natural gas.
Zhejiang is famed as "a treasure house of plants in southeastern China." with a high forest-coverage rate. The province has as many as 3,800 species of plants. Among these, gingko and more than 50 others have listed in the Directory of Rare Plants under State Protection. There are more than 1,900 species of wild animals in the province, 120 of which being listed as first or second grade of wild animals under state protection, making up one third of the country's total protected rare animals.
The continental shelf rich in petroleum and natural gas resources has very good prospect for exploitation. The province's water resources total 93.7 billion cubic meters, ranking the fourth in China by per unit area.

Tourism resources: Zhejiang is one of the birthplaces of the Chinese civilization. As early as in the Old Stone Age about 50,000 years ago, the primitive Jiande Man lived in the mountainous western region of the province. During the New Stone Age of about 7,000 to 4,000 years ago, human activities extended to a wider area, leaving more than 100 cultural sites in the area, including those belonging to the Hemudu Culture (about 6,000 to 7,000 years ago), the Majiabang Culture (about 6,000 to 6,000 years ago) and the Liangzhu Culture (about 4,000 to 5,000 years ago). Among the large amount of cultural relics found in the Yuyao Hemudu Cultural Site, are all types of farming and daily life utensils made of bones, stone, pottery and wood; grains; wooden parts of house-structures; colorful lacquer bowls and bone whistles that can still produce beautiful music now.During the 12th and 13th century, Hangzhou served as the Southern Song Dynasty's capital for about 150 years. In the 14th century, along with the designation of its border, "Zhejiang" became the formal name of the province. In China's history, Zhejiang was famous for its developed farming skills and handicrafts. It led the country in industries such as silk, porcelain, papermaking, printing and shipbuilding.
Zhejiang is a favored tourist destination. It has 11 state-level scenic areas, including the West Lake, Fuchun River, Xin'an River, Thousand-islet Lake, Mount Yantang, Nanxi River, Mount Putuo, the Shengsi Islands, Mount Tiantai, Mount Mogan, Mount Xuedou, Twin-Dragon Cave and Mount Xiandu, in addition to its 35 province-level scenic spots. The Hangzhou River is a national holiday resort, and 10 other resorts, including Xianghu Lake in Xiaoshan, Oujiang River in Wenzhou and Mount Huiji in Shaoxing, are of provincial level. The Surging Qiantang Tides, a unique natural view, attracts numerous visitors from both home and abroad each year.